5-Minute Try It: Clean Up and Fill Up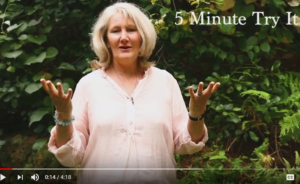 Click photo for video!
PURPOSE: Sometimes we benefit from a simple clean up and fill up. Clean up is a way of letting go – of whatever is ready to leave your experience (e.g. literal dirt, or a feeling, thought, or belief). Fill up is a way of receiving whatever nourishes you now and going forward (body oil, vibrant energy, warmth, positivity, love).
PREPARATION: This practice can be experienced anywhere, as long as you have imagination. For ease, try the shower for the benefit of direct water flow supporting the practice. So to prepare, get naked!
Minute one: Allow water to wash over your head and feel the sensation of water running all over your body. Appreciate the flow of water.
Minute two: Imagine an opening at the top of your head with a channel moving down all the way through your body into the floor. Allow water to cleanse you from the top of your head to the toes on your feet. Feel the flow of clearing and cleansing.
Minute three: When complete, rotate your head clockwise and counterclockwise to signal the cleaning is finished. Prepare for filling up.
Minute four:  Again, imagine that the water flow is directed to the opening and channel in your body. Feel and experience light, joy… patience… (whatever you want to receive) filling up your body beginning at your feet and completing at the top of your head.
Minute five: When you feel sufficient, again rotate your head clockwise and counterclockwise to signal the filling up is complete.
Complete your practice by luxuriating in your nourishment of cleaning up and filling up. Allow this practice to support you and recognize the support from water, a precious element from nature.