Several MoneyMoves® products are available for you, designed to help you bring the concepts of Somatic Finance® into your own life. Our MoneyMoves Cards, the MoneyMoves Quest, and MoneyMoves Audio Seminars are portals to explore your mind, your body, your relationships and the territory of money.
When we investigate money from multiple perspectives we gain knowledge about the flow of money. When we delve deeper into our own experience with money, and curiously play with money practices that enable us to build money muscles, we realize that the only constant about money is that it moves.
MoneyMoves. It's that simple.
As you explore this new way of seeing and experiencing money, you'll gain insights that serve both your well-being and those around you.
---
MoneyMoves® Cards
A Somatic Finance® Experience
$9.95 (plus shipping)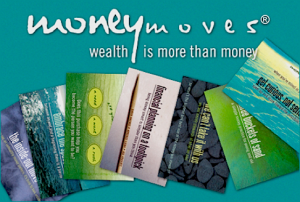 Play with this set of twelve creatively and intentionally designed cards to help you explore money issues, expand perspectives, and shift money habits.
Each card opens your eyes to new ways of seeing a particular aspect of money and wealth. Each cards offers wonder questions to go deeper.
Click here to purchase >>
---
MoneyMoves® Quest
A Somatic Finance® Experience
$39.95 (plus shipping)
Want to go even deeper with your money exploration? Then you are ready for the Quest.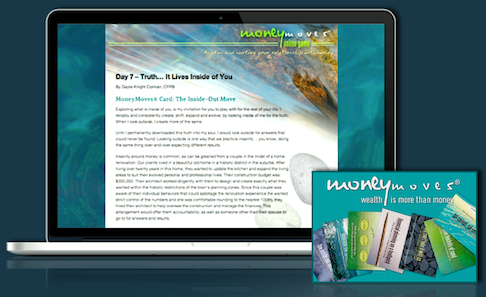 The MoneyMoves Quest includes a set of the cards described above and a 45 day friendly investigation into your relationship with money. Each daily offering includes a compelling money story, a lively online activity, wonder questions and homeplay invitations.
Click here to visit an overview of each day.
Click here to purchase >>
---
2011 MoneyMoves® Audio Seminars
Creating or Consuming – December, 2011  Listen to the Recording
Developing Gratitude – November, 2011  Listen to the Recording
Openness to Learning – October, 2011  Listen to the Recording
Expand Your Awareness – September, 2011  Listen to the Recording